'Great kid with a big heart. We lost a brother.'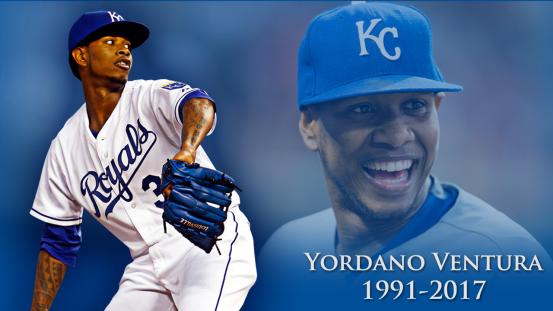 KANSAS CITY — Yordano Ventura, a rising star right-hander with the Royals, died early Sunday in a car accident in the Dominican Republic at the age of 25. 
"Everybody in our organization is hurting right now," Royals general manager Dayton Moore said in a conference call. "We were truly blessed to have been a part of his life. He will always be a special part of our organization."
"We've been group-texting all morning, trying to make sense of it," left fielder Alex Gordon told MLB.com by phone. "He was a great kid with a big heart. It's just a very hard day for all of us. We lost a brother."
Posnanski: Ventura's growth miraculous to see
The Royals indicated they still were collecting details, but there were reports out of the Dominican that the crash took place on a highway in Rancho Arriba, a town in the province of San Jose de Ocoa. Ventura's hometown is in Las Terrenas, where the funeral services are expected to take place.
Yordano Ventura, 1991-2017 Andy Marte, 1983-2017 Royals pitcher Ventura dies in car crash in DR Posnanski: Ventura's growth was miraculous to see Former MLB infielder Marte dies at 33 Commissioner Manfred's statement on Ventura, Marte Baseball world mourns Ventura, Marte Castrovince: Ventura, Marte leave us way too soon Ventura, Marte mourned on social media Sanchez reflects on Ventura's life Royals' Moore on Ventura Justice on Marte's passing Ventura's career stats Marte's career stats
Moore said Royals assistant general manager Rene Francisco, who is in charge of international operations, was en route to the Dominican to be with Ventura's family.
"From what I've been told, speed was not a factor," Moore said. "It was just a mountainous area with heavy fog. It's obvious from the pictures that he did not have a seat belt on. No one has been able to confirm or deny alcohol was a factor, and I've asked repeatedly."
According to Moore, toxicology reports won't be available for 21 days. 
Ventura is survived by his wife, Maria del Pilar Sangiovanni, whom he married prior to last season.
In a separate incident, former Major League infielder Andy Marte, who played parts of seven seasons with the Indians, Braves and D-backs, died in a car crash Sunday. He was 33. In an odd twist of fate, Marte's final game in the Majors was against Ventura and the Royals on Aug. 6, 2014.
"Today is a very sad day for our entire game and particularly for the many loyal fans in the Dominican Republic, the home of both Yordano Ventura and Andy Marte," said Commissioner Rob Manfred. 
"Yordano was a key figure in the Royals' recent success. His electric talent on the mound helped lead the Royals to two American League pennants and the 2015 World Championship. Andy was a respected member of six organizations who played seven Major League seasons, including for the Cleveland Indians from 2006-10. On behalf of Major League Baseball, I extend my deepest condolences to the families, teammates, friends and fans of both players."
• Baseball world mourns Ventura, Marte
One of Moore's first calls on Sunday was to Marlins team president Mike Hill, who had to cope with the death of ace pitcher Jose Fernandez in September.
"The Marlins handled that with such grace and heart," Moore said. "I was just hoping to find out how to process this. There's no playbook for this. No script."
Moore said he last …
continue reading in source mlb.mlb.com