Jones returns home for free baseball clinic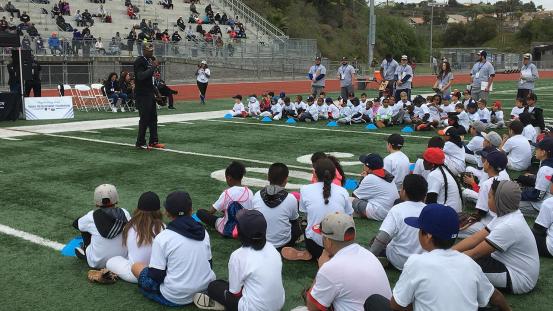 SAN DIEGO — Approximately 240 children sporting ballcaps and baseball gloves took to the Morse High School athletic fields in San Diego on Sunday morning.
Forgive Orioles center fielder Adam Jones if he felt like one of them. Years ago, he was.
"I'm feeling like a little kid again," Jones said Sunday, as he led a free baseball clinic for inner-city kids at his old high school. "Especially with a turnout like this."
Assisting Jones at the event was his old high school teammate and former big league outfielder Quintin Berry. Also on hand were former pitcher and D-backs general manager Dave Stewart and Omar Minaya — a senior advisor with the Major League Baseball Players Association and a former big league executive.
Jones, who makes his offseason home in San Diego, hosted the clinic, which was organized by ProCamps through the "Players Going Home" program." As part of the program, Major League Baseball and the MLBPA provide resources for players to demonstrate their gratitude to those who have helped them …
continue reading in source mlb.mlb.com