Kingery makes MLB Pipeline's Top 10 2B Prospects list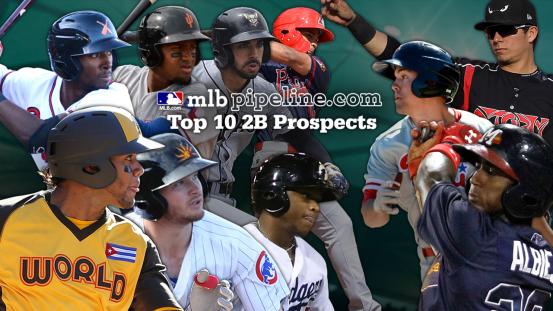 MLBPipeline.com will unveil its 2017 Top 100 Prospects list on Saturday, Jan. 28, with a one-hour show on MLB Network at 8 p.m. ET. Leading up to the release, we look at baseball's top 10 prospects at each position.
He might have changed teams, but there isn't any doubt about who owns the top of this Top 10 second base prospects list.
Top 10 Prospects by Position RHP – Breakdown | List LHP – Breakdown | List C – Breakdown | List 1B – Breakdown | List 2B – Breakdown | List 3B – List revealed on Tue., Jan. 24 SS – List revealed on Wed., Jan. 25 OF – List revealed on Thu., Jan. 26 Top 100 – List revealed on Sat., Jan. 28
For the second year in a row, Yoan Moncada is in that No. 1 slot. And why not? His impressive tools haven't changed just because he was sent from the Red Sox to the White Sox in the blockbuster Chris Sale deal. Beyond the stability at the top, however, is a lot of change. Only two second basemen — Ian Happ of the Cubs and the Phllies' Scott Kingery — are holdovers from a year ago. There were three graduations to the big leagues and four dropped off because of performance and/or others passing them on this hypothetical depth chart.
• Scouting reports, grades, stats and video on Prospect Watch
1. Yoan Moncada, White Sox After the Red Sox broke the bank to sign Moncada — a total of $63 million — he made it to the big leagues in just two years, where he struggled, albeit in just 19 at-bats. He was at the top of the four prospects the White Sox got in that Sale deal and he should see time at second in Chicago at some point in 2017.
2. Ozzie Albies, Braves Albies could very easily sit near the top of a shortstop list, but he moved over to second so he could play alongside Dansby Swanson. Braves fans should get used to that dynamic duo as Albies should arrive in Atlanta in the very near future, at age 20.
3. Ian Happ, Cubs He hasn't moved quite as quickly as Kris Bryant (Triple-A his first full year) or Kyle …
continue reading in source mlb.mlb.com