Kevin Hart Plays $100K Super High Roller at PokerStars Championship Bahamas: 'I don't need luck!'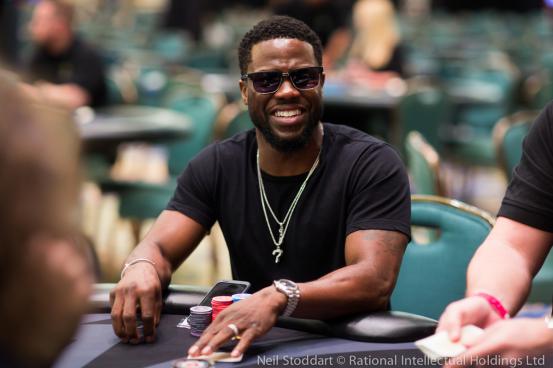 The inaugural PokerStars Championship Bahamas kicked off today with the $100,000 Super High Roller. Just about all of the usual suspects showed up and sat down early on: Daniel Negreanu, Steve O'Dwyer, Adrian Mateos, Nick Petrangelo and Ivan Luca.
And while a lot of railbirds were star struck by their poker idols so close by, it was a different player getting the most attention all day; none other than actor and stand-up comedian Kevin Hart sat down.
Sometimes, mainstream celebrities try to blend in when they play a poker tournament and just keep to themselves. Sometimes, they wear sunglasses and tuck their heads away in hoodies to not attract too much attention. Not Hart though. He was as loud as you'd expect him to be if you're familiar with his stand-up shows and movies.
"I had a good time but I was card dead all day"
"Are you prepared to go eight rebuys today?" shouted Hart across the room to Bill Perkins at a neighboring table when play was just five minutes underway.
"Depends!" Perkins responded with a smile.
Tablemate Jason Koon told the story of once firing three bullets, prompting Hart to admit he was willing to do 22 buy-ins if needed.
"Yeah, $2.2 million!"
All Koon could say was "That'd be a big boost to the prize pool," according to the PokerStars blog which recorded the specifics of the interaction.
If that was Hart's first big bluff of the day or if he really was willing to go that deep, we'll probably never know. But the question of whether he could afford to do so is one that can be answered positively with relative certainty.
He ranked number six on Forbes' 2016 World's Highest-Paid Celebrities Top 100 List with $87.5 million in earnings. The site credited Hart for having changed the economy of the funny business:
"Comedian Kevin Hart is the biggest year-over-year gainer, more than tripling his 2015 earnings from $28.5 million to $87.5 million. His secret? Touring like a rock star. He performed over 100 shows at stadiums and arenas …
continue reading in source www.pokernews.com