PokerStars' Neil Johnson Explains Rationale Behind Tour Changes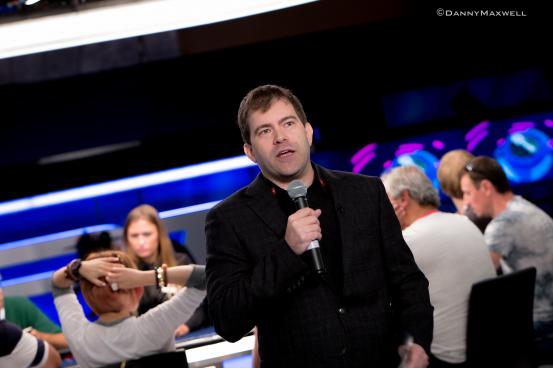 It's a new year and a new poker tournament. While the tournament here in The Bahamas was known as PokerStars Caribbean Adventure up until last year, now it's the PokerStars Championship Bahamas. We talked about that change and more with PokerStars Department Head of Live Poker Operations Neil Johnson.
PokerNews: There's a different logo on the tables.Neil Johnson: There's also more gold-colored branding in the room.
Besides the different logo, it does feel like the same event it was last year. What has changed for you? Ironically, the change that I'm most interested in seeing actually has very little to do with the rebranding of the event. We have so many Spin & Go qualifiers and that really makes a big difference. We started it in Monaco and there really was a different vibe in the venue with all these people who had gotten in for €10 or €20.
This event, the one in The Bahamas, has always been a very reg-heavy event, probably the reg-heaviest event of the year because we get more of the US guys. But now, I'm expecting a little more of a 2007 kind of vibe here. A lot of people are going to come to this event who've never been here before. The weather has been gorgeous since we got here, so it looks like we're really able to show off both Atlantis and the event.
"I think it has a minimal impact on places like Barcelona, Monaco and here in The Bahamas"
As far as the actual rebrand itself, I think it has a minimal impact on places like Barcelona, Monaco and here in The Bahamas. You'll see a significant impact on places like Panama and Macau which haven't done these massive festivals with big buy-ins and the heavy push of Spin & Go qualifiers.
It's the same, but different. It's everything that players have come to expect from what is a PokerStars live event. All that still exists, all that's still here. If anything, things have been simplified. The registration, structures, payouts and rake models are standardized. Before, we had differences from region to region and from venue partner to venue partner. We hope that that, for the players, everything gets a bit easier.
I'm as nostalgic as the next person. I've been on the tour since Season 1 so Prague was a sad time for me with the EPT saying it's farewell. But it hasn't really faded away. It's the same, but different. You and I can talk about going to Copenhagen, Kiev, Loutraki and what not, but for lots of people who have jumped in from Season 10 onward, when things really started to explode, they have no idea what we're talking about. For them, the majority of the destinations will still be there.
These standardizations you talk about are more beneficial for regular players. They're the only ones that actually are affected by this, as they're the only ones that go to places all over the world to play these events. PokerStars, in all other areas really, is more focusing on the recreational players. That's actually a spot-on observation. The traveling community, or whatever way you want to refer to them — the O'Dwyers, the Ikes, the Timexes of the world — they benefit of the standardization. They now know that if I inform them on Macau having a $50,000 Super High Roller, they'll know it's the same as in Barcelona.
The vast majority of players that come to our events are local players. Their only concern usually is the buy-ins, and they want decent structures. But we still want to give them the same experience. And while the guy who plays the PokerStars Cup in Macau probably won't be playing the PokerStars Cup in Barcelona, it doesn't mean that what we learn from one event doesn't apply to another one. If a player in Macau is happy with the structure and buy-in, one will be in Barcelona as well probably.
And with expanding the festival, we have room to experiment as well. When it was "just" an LAPT for 5 days, we didn't have room to experiment a lot. But …