Fort Lauderdale Major features full field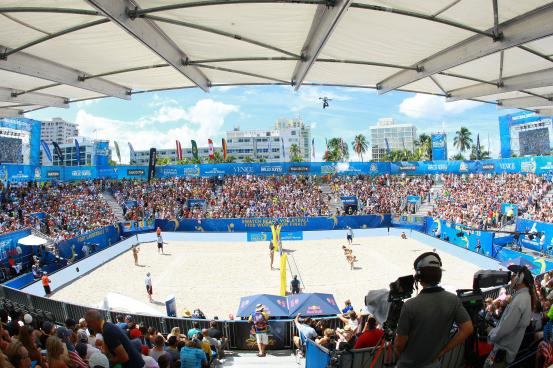 Fort Lauderdale, USA. January 23, 2017 – With the international beach volleyball community returning here next month for a Swatch Major Series stop at Fort Lauderdale Beach Park (February 7-12), the competition will feature south Florida's first full-field FIVB event since January 1994 when South Beach in Miami hosted a World Tour tournament.
Since the 1994 season-opening event where a total of 43 men's and women's teams from 19 countries competed for $150,000 in prize money, the international beach volleyball scene has grown significantly in the 23 years as the 2017 Fort Lauderdale Major will feature 121 men's and women's entries from 28 nations competing for $600,000 in earnings.
Fort Lauderdale Beach Park did host an international event at the end of the 2015 season during the first week of October, but the competition was for a select field of teams competing in the inaugural Swatch FIVB World Tour Finals where only 20 men's and women's teams from eight countries vied for $500,000 in prize money.
While the 1994 South Beach event featured no Olympians since beach volleyball did not make its "debut" in the quadrennial Summer Games until July 1996, the 2017 Fort Lauderdale Major will feature 15 teams (11 men and four women) and 24 players (nine men and 15 women) from the Rio 2016 Summer Games.
The Fort Lauderdale Major will begin with qualifying play February 7 to finalize the field for the 32-team men's and women's main draw brackets.  The money rounds begin February 8 for both genders with the men's final four matches being play February 11 and the women's medal round play February 12.  The winning teams in both genders will share the $50,000 first-place prizes.
Teams Men – Main drawTeams Women – Main draw
Heading the Fort Lauderdale Major field will be Rio Olympic …
continue reading in source www.fivb.org