Underrated Walker deserves more Hall consideration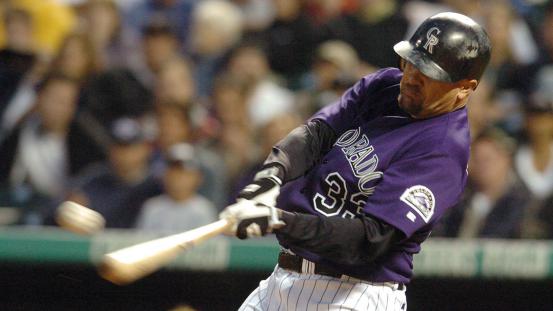 When the Hall of Fame's 2017 class is revealed on Jan. 18, Larry Walker won't be getting the call to Cooperstown.
Sure, Walker might make some progress in the Baseball Writers Association of America (BBWAA) voting. But in 2016, Walker's sixth year out of 10 on the ballot, he garnered a mere 15.5 percent of the vote, below his high of 22.9 percent from '12 and miles away from the 75 percent needed for induction. And based on publicly tracked ballots thus far, he's hovering around 20 percent.
The results of the 73rd BBWAA Hall of Fame election will be revealed Wednesday, Jan. 18 at 6 p.m. ET live on MLB Network, and simulcast live on MLB.com beginning at 5 p.m.
This situation makes Walker perhaps the most underrated of all eligible players. While there likely are several contributing factors, it's clear that Walker's 10 seasons playing in Colorado have become more of a curse than a blessing when it comes to his Hall prospects.
There is no doubt Coors Field helped Walker post his gaudy numbers, but the penalty the sweet-swinging Canadian seems to be paying for his longtime home park is too severe.
Here is a look at why Walker should be a much more serious Cooperstown candidate, despite the influence of the Mile High City.
Advanced statistics already account for park effects — and they're on Walker's side The beauty of a metric such as weighted runs created-plus (wRC+) is that it adjusts for external factors, including ballpark and era, allowing comparisons of players who performed in radically different environments. This all-encompassing offensive stat has 100 as league average.
Over his 17-year career in Montreal (1989-94), Colorado ('95-2004) and St. Louis ('04-'05), Walker posted a career wRC+ of 140, meaning that he was 40 percent better than average as an offensive player, all things considered. That ranks 38th in history (minimum 7,500 plate appearances) and 18th among outfielders. Vladimir Guerrero, a first-time candidate this year who is sure to finish far ahead of Walker in the voting, had a 136 career wRC+. Current Hall of Fame outfielders such as Reggie Jackson (139) and Al Kaline (134) also are behind Walker.
Combine Walker's park-adjusted offensive excellence, his effective baserunning (230 career steals) and his stellar defense in right (seven Gold Glove Awards; 154 assists), and you get an all-around star. According to Baseball-Reference.com, Walker finished with 72.6 wins above replacement, 44.6 WAR over his seven-year peak and a score of 58.6 in JAWS, a system developed by Jay Jaffe to measure a player's Hall worthiness.
Each of those numbers is essentially tied with or higher than the average for the …
continue reading in source mlb.mlb.com