10 potential bargains on free-agent market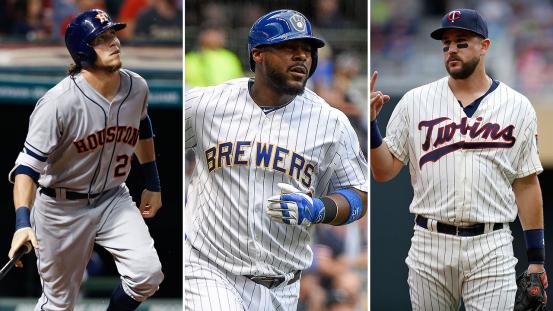 He's out there somewhere — the late, great signing that can tip the scales.
We can say this with reasonable certainty because it happens every year. Last year, for example, Ian Desmond (Rangers), David Freese (Pirates) and Pedro Alvarez (Orioles) all signed after their respective new clubs already reported to Spring Training, and all three provided more than reasonable return on what were relatively meager investments.
It will happen again this year, but that claim comes with a caveat. In picking through the so-called bargain barrel at this stage, you're bound to turn up more duds than studs. Some of the names on this list will admittedly look ridiculous come September (if they don't look ridiculous already), but here's a look at 10 remaining free agents* that might turn out to be diamonds in the rough.
• Hot Stove tracker
* Note: Just to be clear, Mark Trumbo, Jose Bautista, Mike Napoli, Matt Wieters, Jason Hammel and injury recoverees Tyson Ross and Greg Holland are all lingering in the open market, but the intent here is to focus on players who haven't garnered as much ink or attention as those guys.
1. Colby Rasmus, OF Absolute crickets in this marketplace, and that's understandable, given that Rasmus had an adjusted OPS+ 24 percent worse than league average last year. This has been a mercurial talent, no doubt. But Rasmus still has time on his side (he turned 30 in August), he's just a year removed from posting an OPS+ 16 points above league average and he can play center field. He'll likely only cost a fraction of the $15.8 million he made after accepting the Astros' qualifying offer last year.
Rasmus had a cyst in his ear that affected his balance, and an injured hip that required surgery, so it's not hard to figure out what went wrong in '16.
2. Luis Valbuena, IF Hamstring issues cut his 2016 short, but Valbuena is just a year removed from a 25-homer season, and he has the ability to play at first, second and third.
Importantly, Valbuena's power doesn't come at the expense of his walk rate, which, at 20.2 percent for his career, has been consistently above average. He's posted an .822 OPS vs. right-handed pitching over the last three years and — news flash — most pitchers are right-handed. For what it's worth, FanGraphs projects a higher 2017 WAR for Valbuena (1.5) than Trumbo (1.1) or Napoli (1.0).
3. Chris Carter, 1B  Remember when Carter was DFA'd on the heels of a 41-homer season, and everybody rushed to point out what a bargain he'd be? How he's provided similarly all-or-nothing, one-dimensional offensive offerings …
continue reading in source mlb.mlb.com