Borussia Dortmund Should Tap into Bayern Game Plan for Real Madrid Clash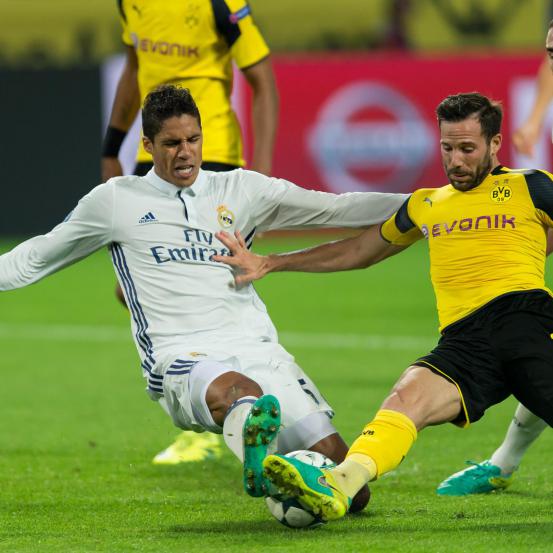 As far as final matchdays of the UEFA Champions League group stage go, Borussia Dortmund's trip to the Spanish capital to face Real Madrid is a fairly relaxed one.
With both teams already qualified for the round of 16, the group win is still up for grabs. However, it is far from certain that topping the section is that big of an advantage for the start of the knockout stages.
As group winners, the Black and Yellows could have to face Manchester City or Sevilla, whereas coming second could lead to an ostensibly easier draw against Leicester City or Napoli. 
Of course, winning the group could also bring a draw such as FC Porto, who Dortmund dismantled in the UEFA Europa League last season, while finishing runners-up could have them face Atletico Madrid.
The Ruhr side will have the luxury of knowing one half of their potential opponents in the next round by the time their game at Madrid kicks off on Wednesday evening, but there is no question they will play to get a positive result regardless of what the implications may be.
The Santiago Bernabeu is too big a stage in European football and Dortmund are too much in search of rhythm at this point in the season for head coach Thomas Tuchel to be content with playing for a draw or not caring about the result at all.
As the 43-year-old prepares for perhaps the biggest test of the campaign so far—and certainly the most prestigious away trip of his coaching career to date—he would do well to remember his side's 1-0 win over Bayern Munich in November.
Unlike previous meetings with the perennial Bundesliga champions, when Pep Guardiola was still at the helm, Dortmund did not opt for an ultra-defensive approach despite playing with a back five.
Before, it served to give the team the most compact shape as they looked to weather the storm of Bayern's unrelenting possession machine. This time around, it allowed for immediate access in the middle of the pitch, where Dortmund's pressing of the Bavarians' central-zone players was the key to the match.
Tuchel correctly identified that, under Carlo Ancelotti, Bayern tend to struggle with pressure up the middle, as their possession game is less fluid and the entire team depends more on the individual class of a few key players than the system being a weapon itself.
Los Blancos take a similar approach, with head coach Zinedine Zidane leaning towards Ancelotti's pragmatism more than Guardiola's creativity.
Considering it has only been one-and-a-half years since the Italian left Madrid—and the fact that the player personnel is largely the same—it comes as no surprise that Bayern and Real have notable similarities in their game.
Madrid also rely …