O'Sullivan wins record Masters title – report & videos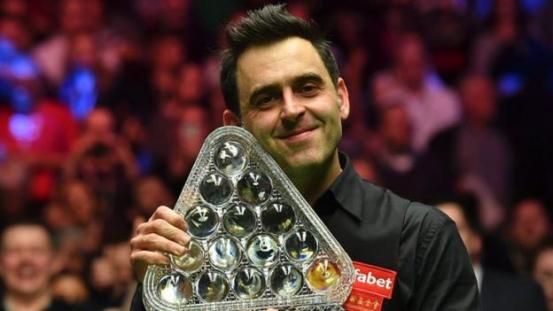 Media playback is not supported on this device
The moment O'Sullivan won his seventh Masters
Ronnie O'Sullivan won a record seventh Masters title by coming from behind to beat Joe Perry 10-7 in the final at London's Alexandra Palace.
Perry, in his first Triple Crown final at the age of 42, led 4-1 but missed a straightforward red for a 5-1 lead.
O'Sullivan won seven frames in a row to move 8-4 ahead before Perry, helped by breaks of 117 and 92, fought back.
But O'Sullivan, 41, sealed victory to defend his title and move ahead of Stephen Hendry's six Masters wins.
Victory means O'Sullivan claimed the newly named Paul Hunter trophy – in honour of the three-time champion who died of cancer aged 27 in 2006 – as well as the £200,000 winners' prize money.
It also ensured he ended a run of three defeats in finals this season.
Most Masters titlesSeven – Ronnie O'Sullivan in 1995, 2005, 2007, 2009, 2014, 2016 & 2017Six – Stephen Hendry in 1989-1993 and 1996Three – Cliff Thorburn, Steve Davis, Paul Hunter, Mark SelbyTwo – Alex Higgins, Mark Williams, John Higgins'I got lucky, I stole it'
"Joe played a brilliant tournament, a really good match and he should've beaten me. I got lucky – I stole it," said O'Sullivan.
"Joe will come again and he is a tough competitor. I'm just relieved to have got over the line. The fans have been unbelievable and I really enjoyed this week."
On winning seven Masters title, O'Sullivan added: "It is great to get some records, I still have the World Championship one to …
continue reading in source www.bbc.co.uk