Ventura, Marte leave us way too soon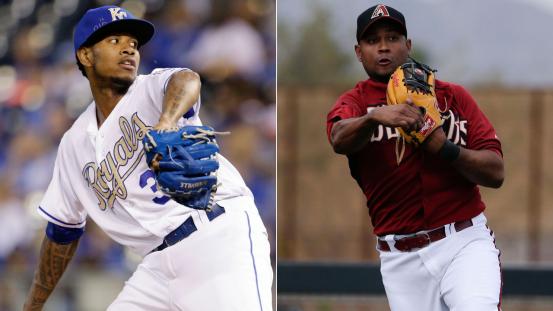 Yordano Ventura was 25. He had one of baseball's fiercest fastballs. He was a little guy with big stuff, big confidence and big dreams. He died in a car accident early Sunday, and, though as of this writing we were still collecting the details of what exactly happened on Caretera Juan Adrian, a highway near the Dominican Republic town of Rancho Arriba, we've unfortunately seen enough other versions of this story to know the gist of it: '
Too fast. Too soon.
Andy Marte was 33. The big dreams Ventura still possessed had long since passed by Marte, a one-time top prospect who didn't reach his star potential. But oh, how he loved the game, and oh, how he explored every conceivable path to pursue it as a livelihood — the Minor League invites, the winter league stints, the two seasons spent bashing homers in Korea. Inconceivably, he, too, died in a separate Dominican car crash early Sunday, and the story here is much the same:
Yordano Ventura, 1991-2017 Andy Marte, 1983-2017 Baseball world mourns Ventura, Marte Royals pitcher Ventura dies in car crash in DR Former MLB infielder Marte dies at 33 Ventura, Marte mourned on social media Sanchez reflects on Ventura's life Justice on Marte's passing Ventura's career stats Marte's career stats
Too fast. Too soon.
Fraternity that it is, Major League Baseball grieved as a group on this black Sunday, a day that reminded us that far, far worse than a baseball career that doesn't reach its potential is a life not fully lived. It no longer matters whether Ventura emerged as the second coming of Pedro Martinez, as he intended, and it no longer matters that Marte didn't fulfill those enormous expectations once placed upon him. All that matters are the families, the friends and the teammates who lost a person they loved.
The game is still processing and coming to grips with the untimely death of Jose Fernandez, the 24-year-old ace of the Marlins who died last Sept. 25 in a boating accident off Miami Beach. The Marlins mustered up the strength to finish their final six games, but the new season will come with new, heartbreaking reminders of the hole he left behind. Just the other day, team officials attended a mass held in his honor in his native Santa Clara, Cuba, and later this season …
continue reading in source mlb.mlb.com