Tournament of Champions 2017: Saturday Leaderboard Scores and Highlights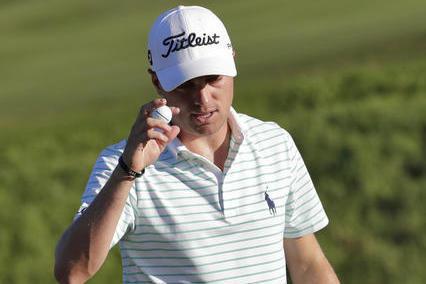 Justin Thomas fired his third straight 67 on Saturday to take a two-shot lead at the 2017 Tournament of Champions with a 54-hole score of 18 under par.
Thomas started the day tied with Ryan Moore for the lead but was able to create separation thanks to an eagle on No. 14.
While Thomas feels good about his standing, there is heat coming from Hideki Matsuyama.
The 24-year-old, who shot a terrific 66 on Saturday, sits two shots off the pace. He's been dazzling, with two wins and a second-place finish in three tournaments early this season, and is looking to add another title to his resume Sunday.
Here's a look at the leaderboard after Saturday's action in Hawaii:
The third round looked set to end with another tie atop the leaderboard, similar to Friday, until this terrific putt from Thomas on No. 14, via the PGA Tour:
Better view or better putt?Justin Thomas now leads by 2.#QuickHits pic.twitter.com/wgWW30L2F3
— PGA TOUR (@PGATOUR) January 8, 2017
Thomas wasn't as crisp as he was Friday, when he hit every green in regulation, but the Kentucky native hit a solid 83.3 percent of his greens Saturday to give himself plenty of chances to succeed with the putter.
Coming into the third round, Thomas was the surprising leader in birdies over the past three seasons, per the PGA Tour:
Most birdies since the start of the 2014-15 PGA TOUR season:881 – Justin Thomas856 – Danny Lee845 – Tony Finau pic.twitter.com/qvnoDJDu1P
— PGA TOUR (@PGATOUR) January 7, 2017
Jordan Spieth has carried the torch for young American golfers for the past two years, but Thomas, who's …