Bill Perkins Gives to the People, Stirs Up Prop Action at PokerStars Championship Bahamas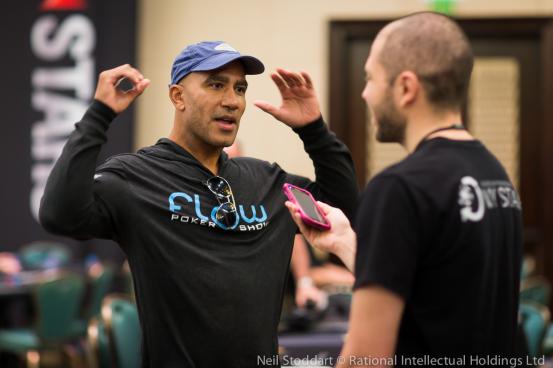 Bill Perkins may be known as a high-living, big-spending baller, but it wasn't always that way.
Years ago, Perkins worked as a clerk. In need of more income to make ends meet, he took on night work as a limo driver. Chauffeuring people miles above him on the income scale opened Perkins' eyes to a whole different lifestyle.
"It was motivating," he said. "Just seeing people enjoying life and what their excess capital afforded them."
Now that Perkins has made his millions and become a member of the class he once looked to as inspiration, he wants to help those who are in his old proverbial shoes. So, he had an idea. Why not stake a bunch of micro-stakes grinders into some events at the PokerStars Championship Bahamas? He could turn it into a contest and use it to promote his Twitch channel.
The idea turned out to be a bit impractical because "it was too complicated working the money." But, Perkins pivoted to giveaways of PokerStars Championship Bahamas packages that would cover rooms, airfare and $1,500 worth of tournament buy-ins to 20 lucky players who tuned in to his channel.
Twitch giveaways are nothing new, but Perkins decided to take things to a level that's rarely, if ever, seen.
"Why not amp it up?" he said of his thought process. "I think that's a better promotion for my show than, here's a t-shirt and a mug."
Perkins' channel itself can be a window into his lifestyle. He plays cash games and streams from his sleek boat, altering his playing style and making things fun for his audience. Micro-grinders and poker superfans make up much of his audience and he saw a perfect opportunity to give them a taste of the life he loves, just as driving a limo once gave him a taste of extravagance.
"The way I look at poker is it's kind of a lifestyle," he said. "It's not just grinding and a job, it's also traveling to places, meeting people, having fun and playing in a competitive…I'm going to call it a sport.
"Most of them are playing for a lot smaller stakes, so giving them $1,500 in buy-ins allows them to have that experience. A …
continue reading in source www.pokernews.com