Zlatan Ibrahimovic or David Luiz: Who Do Paris Saint-Germain Miss More?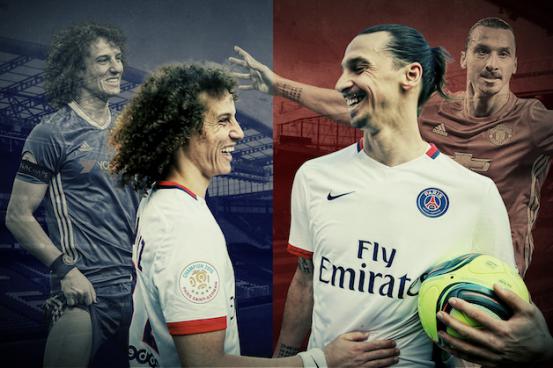 Unai Emery's first season as Paris Saint-Germain manager is not going according to plan. 
Recruited to lift the club's competitiveness on the pitch after Laurent Blanc's trophy-laden but a little underwhelming tenure, the former Sevilla boss has seen his new team struggle. 
The Parc des Princes is not used to defeats in the Qatar Sports Investments era and Emery has certainly delivered more than expected. 
This is due in part to the increased quality of other Ligue 1 clubs.
AS Monaco are Europe's most prodigious attacking team. They've scored an astonishing 54 goals in 18 league games, 21 more than Paris, and have grown immensely from last season. 
OGC Nice, the Ligue 1 leaders, are a maturing side that has taken great sides in this campaign despite the offseason defection of Hatem Ben Arfa to PSG. 
In their meetings with France's first- and second-ranked teams so far this season, Paris have taken one and zero points, respectively. 
Evidently the increased competitiveness of Le Championnat has been a factor in PSG's slide, but there are more significant issues. 
Zlatan Ibrahimovic and David Luiz were two of the most influential characters in the club's recent golden era. 
In three of Paris' four consecutive league triumphs, the Swede was the division's leading goalscorer and named player of the year while also scoring six goals in cup finals. 
Luiz, a surprise arrival from Chelsea in 2014, made a rapid and deep impression in Paris. 
Ibrahimovic won 12 trophies, while the Brazil international claimed eight in just 89 appearances. 
It is not often that a club should lose two such integral players in the same transfer window, and it is from this past summer that so many of Paris' issues stem. 
Both are sorely missed—in terms of on-field contribution and leadership—but which player has proved the greater loss?
If one were making predictions before the season began, one would likely have tipped Ibrahimovic as the more substantial departure. 
During his time in Paris, the forward reached a level of dominance usually reserved for Lionel Messi and Cristiano Ronaldo. When his team were bogged down by a dogged defence—as they have so often been in …